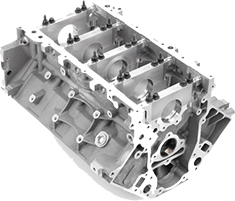 We perform:
repair and restoration of cars, trucks, industrial engines, cogeneration plants MAN, MWM-DUTZ, TEDOM-LIAZ units, shells and other aggregates.
Grinding / milling of engine blocks, motor heads and other surfaces (width up to 420 mm, length 1300 mm).
Restoration of the seat of the main bearings of the cylinder blocks.
Car engine block restoration
It is not for nothing that the engine is called the heart of the car. Many of the car's performance characteristics depend on the perfect operation of this unit. Heavy-duty vehicles often show serious signs of engine wear:
blue smoke appears from the muffler;
Engine operation is uneven or the engine makes unnatural noise throughout the range of operation;
The engine loses it'spower and the car is no longer able to provide sufficient acceleration.
All of these signs indicate a potential problem. In this case, an assessment of the mechanical condition of the engine must be made and restoration of the engine unit may be required.

During the work process, the engine cylinder wears down, its shape becomes elliptical and conical, the wall surface also wears down due to friction of moving parts. The piston rings no longer fit so well on the cylinder walls and do not provide the necessary sealing, which results in increased oil consumption, loss of compression, and excessive noise due to increased gaps. Operation of the engine with such defects quickly leads to engine breakage, they could be: piston breakage, crankshaft clogging, shredding, as well as other defects. In this case, timely restoration of the engine block will be much cheaper than replacement of other expensive parts.
The restoration of the cylinder block is based on the replacement of the factory-installed engine cylinder liners. In turn, cylinder blocks, which are cast together as one whole, can be shelled, turned, honed, as well larger repair pistons could be used.

With such solutions, engine block repair is much cheaper than buying a new engine block. A well-restored cylinder block serves as well and as long as a new one.

You will be able to perform overhaul of the engine and all the necessary work by contacting our company.
High-level specialists, thanks to modern equipment and the latest technologies, will help to solve all possible problems related to engine overhaul as soon as possible.