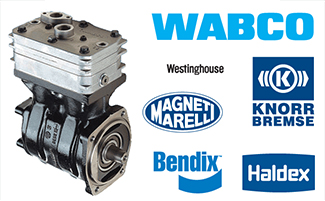 We repair all types of bus and car air compressors for WABCO, KNORR, MB, MAN, DAF, VOLVO, SCANIA and others.
Air compressor repair
The use of compressed air is now so widespread that a compressor can be found in almost every car.
As the car's compressor is a technically complex matter, it is not recommended to repair it yourself. The best solution will be to contact our company, which carries out qualified car compressor repairs.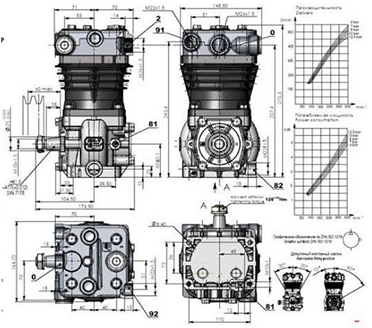 Without going into the technical details of the construction of the compressors themselves, we will try to reveal the most common defects in the operation of compressors.
Common defects:
The compressor is not pumping air well – the problem may be in the valves, pistons, as a result – insufficient air pressure in the system.
Noise and shaking sound during operation. This type of malfunction indicates damage to the piston assembly, a possible piston finger and connecting rod defect, and a large gap between the piston and the cylinder (or liner).
Excessive wear in the cylinder, such a defect has an unstable compressor operation, with pronounced clicks in the piston group and increased oil in the air system. In this case, the piston must be changed to a larger one, but the cylinder needs turning / honing.
The valves do not hold pressure. This reason is understandable and the only solution is to replace the damaged valves.
There is no shortage of details in car compressor repair. Improper or poorly performed car compressor repairs can lead to unpleasant consequences and higher costs than contacting a specialist service center.
Our company will help you repair your car's compressor. High-class specialists will quickly discover the cause of the disturbance and eliminate it.